MuscKit True Grip  – Improve your grip
TrueGrip – Forget About Calluses, Sweaty Hands And Weak Grip. True Grip Has Arrived To Revolutionize Your Workouts! Improve your grip.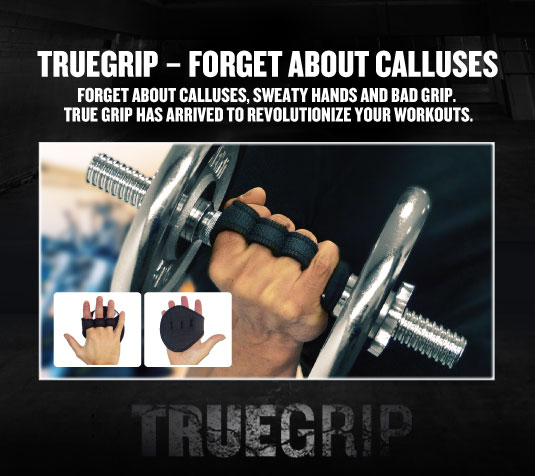 What is the most frustrating thing about going to the gym (apart from people who won't leave a machine while resting)? Ending your workout with your hands full of calluses, stained, in pain and with a horrible smell due to sweat can caused by bodybuilding gloves.
Most bodybuilding gloves do not allow your hands to breathe and they do not protect them as they should. Your hands end up getting sweaty, smelly, and full of calluses. Worse: they do not offer a good grip on dumbbells or bars. All these negative aspects affect your training, demotivate you and negatively affect your performance.

Nobody likes to go out with friends, to go to work or to go on a date with his hands looking bad.
Thanks to Musckit's True Grip, you will not have to worry about these problems any more. Made out of neoprene, True Grip will allow you to firmly grab dumbbells and bars, and your hands will never be damaged or get slippery. Just focus on the muscles your are using and let your True Grips do their job. Dumbbells will never leave your hands again and your hands will never get to the end of the workout in pain.
Do not be surprised if you start turning heads at the gym. True Grip has that effect on people. Apart from all the benefits, True Grip are also eye-catching due to their innovative design and because they always look great. That is why it is normal for people to notice them: they send out a positive image of someone worried about working out in comfort.
"What is that on his hands? Where can I find those gloves?"
Forget about calluses, sweat, bad smells and poor grip. Your workout will never be affected by such factors again. True Grip will give you aworkout experience like you have never had before.
You don't believe it yet? It's easy! Try them out!
If you use True Grip in all your daily workouts, we guarantee you that in 3 months you will not have calluses on your hands anymore.