Description
Natural Stacks NMN+
Supports brain health, blood vessels, heart, and more*
Feel more energetic, vital, and focused each and every day.*
Supports youthful aging and cellular renewal*
Age like fine wine and keep the cells healthy at all times.*
Synergistic Ingredients
Vitamin B3 (Niacinamide)
Our Vitamin B-3 source is a niacinamide, which has been carefully selected to reduce incidences of flushing.
NMN
The essential proven precursor to NAD+ production.
Trimethylglycine
A natural compound that supports heart health, DNA production, and cellular performance.
Nutritional Information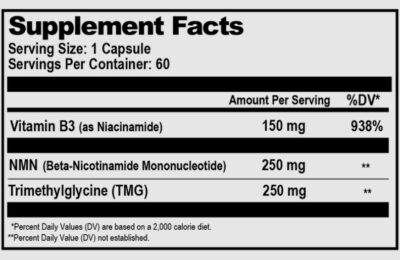 x60 servings
Contains 60 servings. Recommended daily serving is 1 capsule per day.
1 capsule/day
Take 1 capsule per day or as advised by a healthcare practitioner.