Description
PipingRock Ashwagandha Root
PipingRock Ashwagandha Root – derived from the roots of a small shrub in the nightshade family, is an herb historically revered in Southern Asia that is sometimes called Indian ginseng. It has long been prized in the Ayurvedic tradition and continues to support healthy lifestyles today! Ashwagandha is a source of naturally occurring antioxidants and other various botanical compounds.
PipingRock Ashwagandha is a premium ayurvedic supplement, providing the equivalent of 920 mg of Ashwagandha in convenient quick-release capsules. We test our herbs for purity and potency, delivering superior quality that works best for your routine.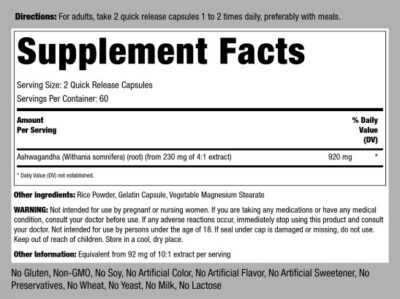 Additionally find out more about PipingRock here.
Also check out our Special Offers here.
PipingRock's Promise
We proudly offer you our ever-growing selection of Vitamin & Supplement products designed to help you achieve your wellness goals at the best value in the industry! The beauty lies in the depth of our assortment. PipingRock carries hundreds of unique products for Men & Women of all ages. Our advanced selection includes powders, softgels, liquids and organic formulas with premium ingredients, sourced from all over the globe. We're continuously adding Non-GMO, Vegan, Organic and Gluten-Free options to meet all your nutritional needs. Our robust product line is evolving everyday as we consistently strive to give you the best.
About PipingRock's Quality
You've found your One-Stop-Shop for Vitamins & Supplements at PipingRock. Our exclusive formulas are crafted in our own "GMP Certified" manufacturing facilities. We verify PipingRock products with third-party, FDA-registered agencies to ensure quality & purity. Each product goes through hundreds of checks, in-process and post-production. Furthermore, we can assure you that everything that is on our label is consistent with what goes into our Vitamins & Supplements. We guarantee purity, potency, safety and innovation in everything we do.