Description
What is DIM (Diindolylmethane)?
DIM – a phytonutrient (plant nutrient) found in cruciferous vegetables.  These include cabbage, broccoli, bok choy, Brussels sprouts, cauliflower, kale, kohlrabi, mustard, rutabaga, and turnip.
Like estrogen, Diindolylmethane can be metabolised only by a special class of cytochrome enzymes that reside in cell membranes in the non-water part of cells. This special metabolic pathway for DIM, and the enzymes involved, precisely overlap with the pathway needed for healthy estrogen metabolism.
It has potent effects on estrogen metabolism. While being able to keep the body relatively balanced (by preventing either drastic increases or decreases in estrogen). In small amounts, it can both inhibit the aromatase enzyme (and prevent conversion of testosterone into estrogen) and it can act on more potent forms of estrogen and convert them into less potent forms; this conversion reduces the overall effects of estrogen in the body. However, taking too much DIM at once can actually induce the aromatase enzyme. Thus acting in the opposite manner and increase estrogen synthesis.
Exerts numerous anti-carcinogenic (anti-cancer) effects in the body.
Conclusion
This is a healthy stimulus for the beneficial metabolism of oestrogen in men and women. Additionally contributes to a better metabolism in the most natural way possible by working with your own hormones. Also adjusting their action to avoid hormonal imbalance.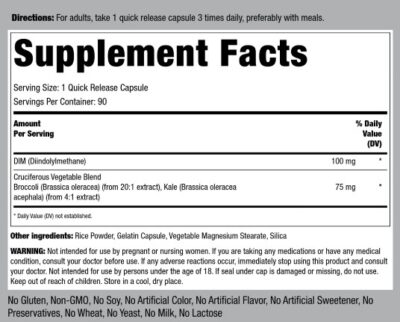 Additionally find out more about PipingRock here.
Also check out our Special Offers here.
Nutritional Information
Serving Size:
1 Quick Release Capsule
Servings Per Container:
90
Amount
Per Serving
% Daily
Value
(DV)
DIM (Diindolylmethane)
100 mg
*
Cruciferous Vegetable Blend

Broccoli (Brassica oleracea) (from 20:1 extract), Kale (Brassica oleracea acephala) (from 4:1 extract)

75 mg
*
Other ingredients: 
Rice Powder, Gelatin Capsule, Vegetable Magnesium Stearate, Silica
* Daily Value (DV) not established.