Description
PPNI Mag Max (Magnesium Bisglycinate)
PPNI Mag Max (Magnesium Bisglycinate) – great for getting a good nights sleep and feeling rested in the morning and Magnesium may help with stress, anxiety, high blood pressure, restless legs, cramps and more.
Mag-Max is a pure magnesium, which comprises two glycine molecules bound to one magnesium molecule. This product binds to a glycine, which is an amino acid that is small enough to pass through your cell walls so that your body can absorb and utilize the magnesium, rather than pass right through your gastrointestinal tract like many other forms of magnesium. It is great for those who prefer capsules over powder, and it doesn't cause bowel intolerance like some magnesium supplements.  PPNI – Mag-Max is free from fillers, stearates and magnesium oxide.
Nutritional Information
Magnesium Bisglycinate 1600mg per serving.
Providing Magnesium 320mg per serving.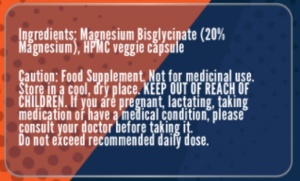 Also check out our special offers here.
Additionally find out more about this product here.