Project AD Curcumin BCM-95
Anti-inflammatory Support
Reduces inflammation & joint pain
Supports cellular function
Promotes digestion
60 Servings
In stock
Description
Project AD Curcumin BCM-95
Inflammation is a killer – the research is unquestionable. Managing it, however, is possible – with the right tools to combat it at its root cause. Using Project AD Curcumin BCM-95.
BCM-95® is exactly that: a powerful anti-inflammatory blend of Curcumin from Turmeric that works tirelessly to snuff out inflammation, reduce joint pain and improve digestive health.
Combined with Bioperine, BCM-95® maximises curcumin uptake and allows you to reap the benefits of this powerful compound.
Suitable for vegetarians and vegans, it's an incredibly potent compound to keep in your daily arsenal to promote all-round health & wellbeing, allowing you to train & fight harder in your quest for athletic perfection and health.
WHAT OUR PRO SAYS
Research of curcumin continues to pick up pace and show incredible benefits. It helps to snuff out the root cause of most diseases (inflammation), making it a vital component in the fight to stay healthy. Unfortunately, the bioavailability of Curcumin from Turmeric is generally poor, meaning users miss out on its tremendous benefits. We've solved that with BCM-95® by utilising an advanced delivery system from Bioperine for maximum absorption. This, combined with the fact it's the most potently dosed formula on the market. Making it a game-changer when it comes to managing inflammation.
Also check out our special offers here.
Additionally find out more about this product here.
Nutritional Information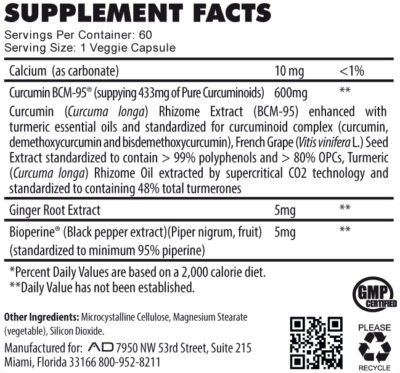 SUGGESTED USE: As an adult dietary supplement. Take 1 capsule daily with a meal. BCM-95® is essentially a delivery system that helps to boost absorption and the bioavailability of Curcumin from Turmeric. BCM-95® is comprised of all the elements of the root of the Curcuma Longa plant (Turmeric). There are in-built essential oils that boost the delivery, thus further boosting the benefits and the rate of absorption into the body. In order to achieve the optimal benefits of any supplement, the bioavailability is a key consideration when reviewing the overall successes and true body benefits such as BCM-95's ability to ease arthritis symptoms, promote good heart-health, potential to improve cognitive functions, boost low mood, sooth upset stomach and aiding in digestion.
WARNING: Not intended for those under 18 years of age. Dietary supplements are not intended to replace a healthy diet. Always consult your physician before use and before starting any diet or exercise regime