Project AD TUDCA
€47.99
Promotes liver health
Supports insulin sensitivity
Increases bile flow
60 Servings
Description
Project AD TUDCA
Project AD TUDCA – Tauroursodeoxycholic acid (TUDCA) is a bile salt found naturally in the body. TUDCA is water-soluble, allowing it to fight against a backlog of bile acids and harmful toxins that build up in the liver, thus protecting cells from death.
Not only does TUDCA allow you to maintain optimum liver health, but research shows it also has key implications for promoting gut health and increasing absorption.
In addition to this, TUDCA plays a key role in maintaining insulin sensitivity and promoting cell regeneration, vital for our overall wellbeing and longevity.
A 100% vegan-friendly formula, TUDCA can also enhance the synergy and absorption of other AD Supplements you're consuming.
WHAT OUR PRO SAYS
The research on Tauroursodeoxycholic acid continues to pick up pace. What we're looking at, here, is a simple yet powerful health supplement that can significantly enhance your results from your overall nutritional regimen. Regulating insulin levels, improving cell regeneration and enhancing overall gut health are benefits every athlete should be taking advantage of. It does this by increasing bile flow. Thus helping to break down toxins and absorb vitamins and other helpful compounds in the body. Adding it to the AD LIFE range was a no-brainer. Just like it should be to add it to your own routine.
Also check out our special offers here.
Additionally find out more about this product here.
Nutritional Information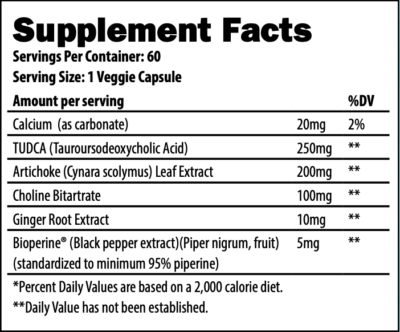 SUGGESTED USE: As an adult dietary supplement. Take 1 capsule daily with a meal. TUDCA is the foundation of a healthy liver and a successful supplement plan. Not only does TUDCA provide many benefits such as clearing insulin levels, cell regeneration and eye health, but it allows you to take advantage of every other AD supplement and boost results! How? TUDCA increases bile ow, which means it is directly responsible for breaking down toxins and absorbing all of the vitamins from your other supplements. In addition to maximizing results, TUDCA can even help lower stress levels.
WARNING:  Not intended for those under 18 years of age. Dietary supplements are not intended to replace a healthy diet. Always consult your physician before use and before starting any diet or exercise regime