DNA Sports Dynamic
€35.99
Get all the energy you need to crush your next workout with Dynamic Pre-Workout from DNA Sports!
25 Servings
Description
DNA Sports Dynamic Preworkout
DNA Sports Dynamic Preworkout – The formulation of this product aims to deliver an effective increase in energy levels and mood which is sustained whilst making it viable for use at any time of the day by reducing the likelihood of a 'crash' following use
The formula includes enXtra®, a natural caffeine alternative derived from Alpinia galanga, which provides a sustained release of energy without the crash or jitters that come with other stimulants. In addition, Dynamic includes mucuna pruriens, a natural source of L-DOPA, which helps to improve mood and reduce stress, and AstraGin®, a blend of plant-based extracts that helps to enhance the absorption of key nutrients in the body.
Dynamic is perfect for anyone looking to power through their workouts with improved energy and a positive mindset, without the harsh side effects of other pre-workout supplements.
Made from a proprietary extract of Alpinia Galanga, a commonly used spice in Asian cooking, enXtra targets a cognitive process known as "Attention Network Function" (ANF), which is the ability of the brain to allocate processing resources to a specific task. The ANF system plays a critical role in mental alertness and the ability to focus on a task.
enXtra is unique among caffeine-free energy supplements:
Same-day effect that can last up to five hours
Supports mental energy without the "crash" phenomenon
Can be used in combination with caffeine to provide a complete solution for mental energy
DNA-authenticated extract of Alpinia Galanga
Check out the Review Bros review of Dynamic ('The Whistle') Here
https://www.youtube.com/watch?v=SilhhQRNNsU&t=483s
Sources
https://omniactives.com/product/enxtra/
Nutritional Information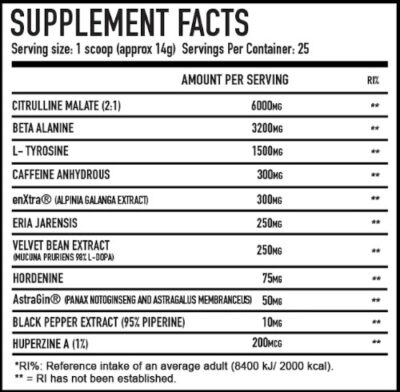 Also check out the rest of our Special Offers here.
Additional information
| | |
| --- | --- |
| Flavour | Rocket Pop, Sour Gummy Bears, Green Rancher Candy |