Swanson Vitamin E 400
€9.99
Easy digestible softgel capsules.
Each dose delivers 400 IU.
Provides antioxidant defence against free radicals.
60 Softgels
In stock
Description
Swanson Vitamin E 400
Vitamin E – one of the most important natural antioxidants – it fights free radicals and protects the body against their harmful effects. This vitamin "traps" free radicals, transforming them into harmless substances that are later excreted from the body. It protects polyunsaturated acids (omega-3 and omega-6) against oxidation.
Vitamin E is a term that refers to eight different compounds that fall into two categories: tocopherols and tocotrienols. Each category is further broken down into alpha, beta, gamma, and delta. Vitamin E is a fat-soluble vitamin made exclusively in plants, and its natural sources are wheat germ oil, whole grains and leafy greens. Humans and animals are unable to synthesize vitamin E, so they must be provided with food.
The term "vitamin E" itself is used only for alpha-tocopherol, however the beneficial properties of both the tocopherols and the D-alpha tocopherol tocotrienols present in the product are 100% of the biological activity of natural vitamin E.
Recommended use:
As a dietary supplement take 1 softgel per day with water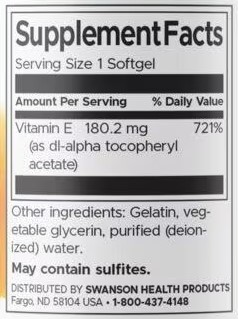 Additionally find out more about Swanson here.
Also check out our Special Offers here.