Description
10X Glut+
Glutamine is an important and naturally occurring amino acid with many functions in the human body. At times of stress or when the body's need for glutamine is greater than its ability to produce it, your body may look to break down protein sources, such as your muscles, to release this amino acid. So if you're looking to supplement your diet with glutamine then look no further than 10X Athletic GLUT+. It's 100% Vegan, Pharma Grade, micronized l-glutamine powder. 10X Athletic – Supplements you can trust.
Trusted by Athletes, our labels are fully transparent and our products contain zero proprietary blends. 10X GLUT+ is manufactured in GMP, NSF and IC certified facilities. Our 10X GLUT+ is tested for banned substances and heavy metals, so whether you're a competing athlete, in a profession that has mandatory drug testing or you just want to know that you're doing right by your body, be assured 10X GLUT+ has you covered.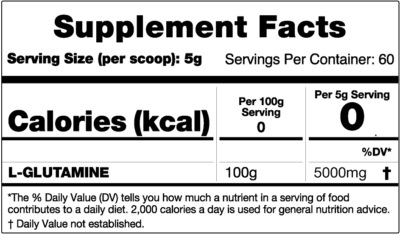 Find out about some of the 10X Athletic team here.