10X Vegan Protein *Free Shaker*
€19.99
Informed Sport Approved
Amazing Taste
Vegetarian Friendly
Uncompromising Quality
Contains 20 Servings
Description
10X Athletic Vegan Protein
10X Athletic Vegan Protein is INFORMED SPORT APPROVED. Trusted By Athletes.
Aren't you sick of awful tasting vegan proteins? We were, but we weren't prepared to accept plant based proteins couldn't taste as good as whey. So we set out to create the best tasting vegan protein on the market. We believe we cracked it with 10X Athletic Vegan protein and we think you're going to be blown away with the taste.
10X Vegan is a premium quality plant-based protein that has been expertly formulated with flavour in mind. So whether you're looking for lean muscle gain, want to promote weight loss or aid muscle recovery, it's a whole lot easier if your protein shake tastes as good as it feels. 10X Vegan is an excellent alternative to whey for lactose intolerant individuals, those on a plant-based diet and for anyone looking to boost their overall protein intake.
Unlike many other vegan protein shakes on the market 10X Vegan can be taken daily as it tastes incredible, is hypoallergenic and easily digested. 10X Vegan provides you with 20g of high quality pea protein concentrate in every scoop. 10X Vegan contains ZERO Sugar, ZERO Gluten, ZERO Soy, as well as ZERO Lactose. All our proteins are Informed Choice approved and manufactured in GMP, NSF and IC certified facilities in sunny Florida. Our proteins are 3rd party tested for banned substances and heavy metals, so whether you're a competing athlete, in a profession that has mandatory drug testing or you just want to know that you're doing right by your body, be assured 10X Vegan has you covered.
Can be taken in the morning as well as post workout or any time of the day. Mix one scoop of 10X Vegan with 300-400ml of ice-cold water or a dairy-free milk alternative, blend (shake) and enjoy.
If you want to get creative but are limited in time, add a banana or some frozen berries to supercharge your shake. Just don't forget to blend it first or your smoothie will be really lumpy.
INGREDIENTS
Chocolate Strawberry: Pea Protein Concentrate, Natural Cocoa Powder, N&A Flavours, Guar Gum, Sodium Chloride, Sucralose (Sweetener), Medium Chain Triglycerides.
Strawberry Banana: Pea Protein Concentrate, N&A Flavours, Guar Gum, Sodium Chloride, Sucralose (Sweetener), Medium Chain Triglycerides.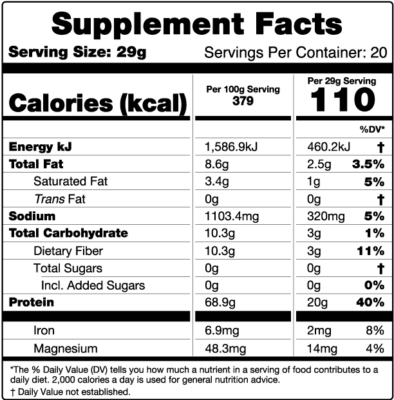 Find out about some of the 10X Athletic team here.
Additional information
| | |
| --- | --- |
| Flavour | Chocolate Strawberry, Strawberry Banana |
| Amount | 1080g, 540g |
| Free Shaker | Yes, please!, No, thanks! |