InnovaPharm Vitamin D3 + K2
€21.99
5000 IU – Vitamin D3
180 mcg – Vitamin K2 (MenaQ7)
Contains 60 Servings
Description
InnovaPharm Vitamin D3 + K2
InnovaPharm Vitamin D3 + K2 combines vitamins D3 and a patented, highly bioavailable form of vitamin K2 known as MenaQ7. These two vitamins have been researched extensively for their importance in the health of bones, teeth and the cardiovascular system.
In combination, vitamins D3 / K2 may support immune health, formation of strong, health bones and proper calcium metabolism in blood vessels and arteries, promoting arterial flexibility.
Contains:
5000 IU – Vitamin D3
180 mcg – Vitamin K2 (MenaQ7)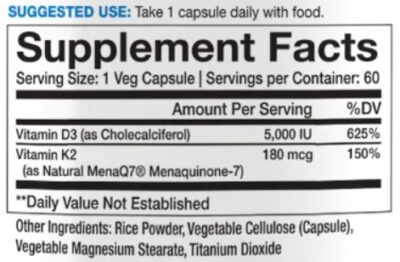 Also check out our Special Offers here.
Additionally find out more about Innovapharm products here.