Trained By JP EAA 1Kg *Free 2Kg Cream of Rice*
€69.99
Description
Trained By JP EAA
Trained By JP favour using essential amino acids (EAA) over just BCAA. Literature suggests a potential benefit of increased muscle protein synthesis, and offsetting muscle protein breakdown. This isn't to say that BCAA can't pose potential benefits, and absolutely have their place, it may simply be prudent to use essential amino acids.
Trained By JP EAA used a high dose of leucine. The main amino for stimulating m-Tor, which plays a large role in muscle protein synthesis.
Taking 2 servings during a training session will suffice perfectly if have taken in a protein rich pre workout meal and then following training again take in a protein rich post workout meal. If at times meal timings become a little further from around 90 minutes pre and 60 minutes post workout, then use 3 servings during the session. This will aid in recovery , which will in turn ensure increased performance in subsequent training sessions.
Nutritional Information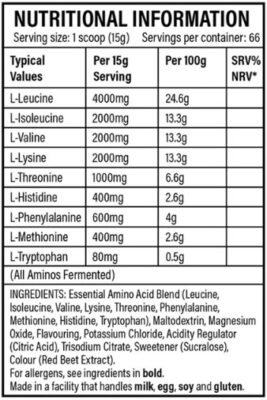 Also check out our special offers here.
Additionally find out more about the product here.
Additional information
| | |
| --- | --- |
| Flavour | Cherry Lime, Mixed Berry, Orange, Pina Colada, Strawberry Kiwi, Tropical |
| Amount | 1Kg, 450g |
| Cream of Rice Flavour | Banoffee, Birthday Cake, Blueberry Muffin, Cherry Bakewell, Chocolate Hazelnut Spread, Maple Syrup, Vanilla, White Chocolate Coconut, Chocolate Fudge, Cookies & Cream, Salted Caramel, No thanks |